Spanish
At LEAP we know that there are many benefits to learning a new language. Languages are windows to different cultures, allowing us to communicate and connect with others from around the world. We also understand that learning a new language helps improve people's thinking skills and memory abilities. Studies have shown that young people proficient in two languages perform better in attention tests and have better concentration than those who speak only one language.
Our Spanish lessons aim to reinforce the spoken word, through the use of songs, chanting and paired and group practice. We study the way the language is formed and the rules that help us to develop our language ability. Children are taught to pronounce words correctly, we want them to feel confident to communicate in Spanish, safe in the knowledge that they will be understood. We link the spoken word to the written word, learning to read and write words then phrases and building up to whole sentences.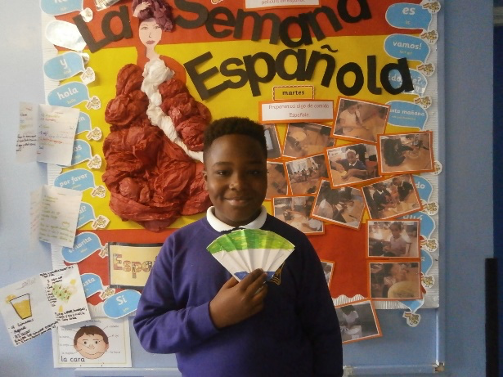 National Curriculum
The National Curriculum provide the framework for the teaching of Spanish for KS2 and we also teach cross-curricular Spanish during Geography and History lessons.
https://www.gov.uk/government/publications/national-curriculum-in-england-languages-progammes-of-study/national-curriculum-in-england-languages-progammes-of-study
Curriculum Overview
We follow the Language Angels scheme of work
Language is taught through songs, games and lots of oral practice
All KS2 Children receive an average of 45 minutes of taught Spanish per week
We run a yearly 'Spanish Week' where children learn about Spanish speaking cultures and explore in practical ways how Spanish is applied in the world
Cross curricular Spanish is taught through Geography, History, DT and PE and children are encouraged to use it throughout the day, for example when answering to the register and asking to go to the toilet
From Year 3 we start learning to say, read and write single words in Spanish, moving on to phrases and short sentences and finally in Year 6 to longer sentences and short paragraphs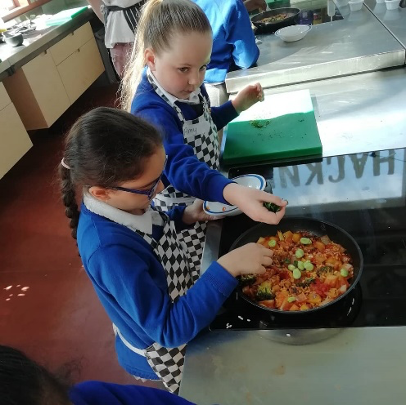 Cultural Capital
We provide opportunities for children to engage with Spanish Speaking visitors in school, to visit cinemas to watch movies in Spanish and visit places around London with Spanish exhibitions. We take part in the Hackney Music Festival which involves Spanish music and we have links to the Arsenal Double Club and the British Council.
We are hoping in the future to investigate the possibility of taking children on trips to Spain.
Awards

We were awarded an Erasmus+KA1 grant to enable us to send a number of teachers to Spain to continue our fantastic Spanish-learning journey, however, due to the current situation that has been postponed for the time being.
How to help children at home
We actively encourage children to continue their learning journey at home and believe that doing a little practice every day can have a great impact on learning. All children have their own login details to access Language Angels at home, where they can practice their language skills through games and activities. We have weekly spelling tests with a list of words for children to learn to say, read and write. The following websites are also useful:
Language Angels – all children have username and password to access Spanish games
https://www.languageangels.com/schools/
Rockalingua –provide a range of Spanish songs to reinforce vocabulary and phrases
https://rockalingua.com/videos
BBC Bitesize – has lessons and games to practice
https://www.bbc.co.uk/bitesize/subjects/zxsvr82
Stories to listen to including traditional tales
https://www.thespanishexperiment.com/stories
Spanish songs from Jack Hartmaan
https://www.google.com/search?q=jack+hartmann+spanish+songs&rlz=1C1GCEO_enGB942GB942&oq=spanish+songs+hartmaa&aqs=chrome.1.69i57j0i8i13i30.7422j0j4&sourceid=chrome&ie=UTF-8