Music
Music is a unique way of communicating that can inspire and motivate children. It is a vehicle for personal expression, and it can play an important part in the personal development of people. Music allows our pupils to reflect and links closely with their overall development. Besides being a creative and enjoyable activity, music can also be a highly academic and demanding subject. If any pupil wishes to learn an instrument they must show great responsibility for their instrument and to their practice. In addition, to learn a musical instrument, or even how to read music notation, also takes great resilience and our music lessons at LEAP encourage this resilience. Music reflects the culture and society we live in, and so the teaching and learning of music enables children to better understand the world they live in and develops curiosity for different cultures and ideas. It also plays an important part in helping children feel part of a community. We provide opportunities for all children to create, play, perform and enjoy music, to develop the skills, to appreciate a wide variety of musical forms, and to begin to make judgements about the quality of music.
The objectives of teaching music in our schools are to enable children to:
know and understand how sounds are made and then organised into musical structures;
know how music is made through a variety of instruments;
know how music is composed and written down;
know how music is influenced by the time, place and purpose for which it was written;
develop the interrelated skills of performing, composing and appreciating music.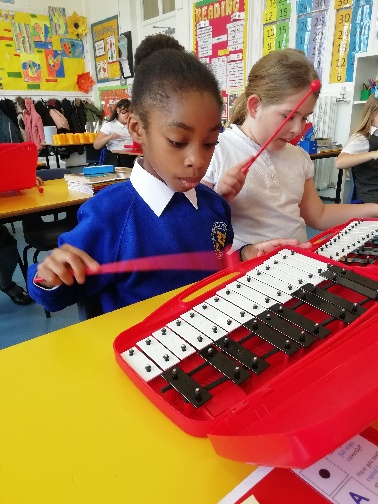 National Curriculum
Music is a universal language that embodies one of the highest forms of creativity. A high quality music education should engage and inspire pupils to develop a love of music and their talent as musicians, and so increase their self-confidence, creativity and sense of achievement. As pupils progress, they should develop a critical engagement with music, allowing them to compose, and to listen with discrimination to the best in the musical canon.
National Curriculum Music (2014)
Curriculum overview
At LEAP, Music plays an important part in our wider curriculum. It is sometimes integrated into topics, and sometimes taught to ensure the coverage of skills and knowledge.
When teaching music directly, classroom teachers use the new LEAP scheme of work (which uses Charanga Musical School as a resource) to support their lessons.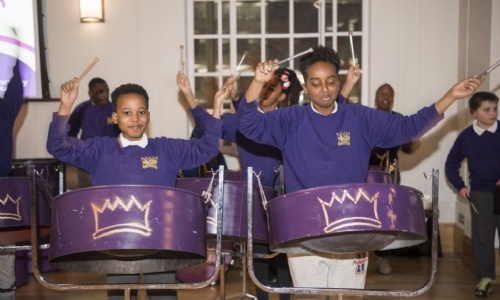 Through the LEAP scheme of work the children develop their understanding, make musical judgements, apply their new learning, develop their aural memory, express themselves physically, emotionally and through discussion and create their own musical ideas. The wide range of core resources have been developed specifically to motivate and capture each individual's personal interest.
The children not only learn about music; they become musicians who are able to share and perform using their new skills.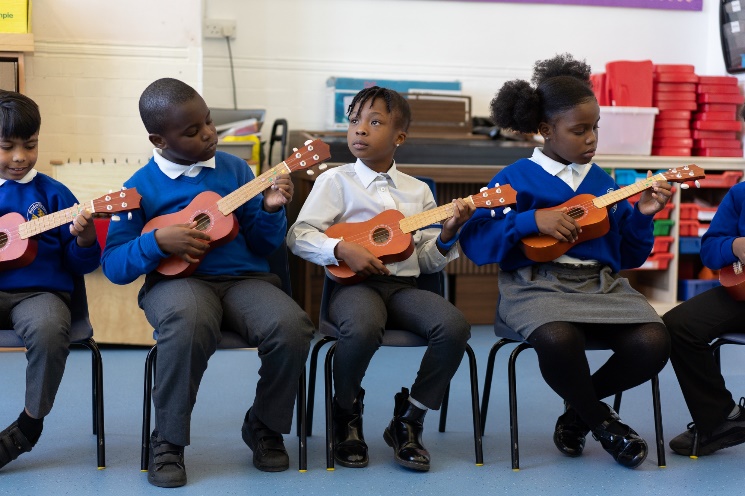 The musical progression through EYFS, KS1 and KS2 is demonstrated in the PDF documents below. The instrumental work is differentiated allowing children to move through the relevant parts as they need to. Remember that an integrated approach to musical learning means that the whole musical experience is important, children are learning music through these activities.
Musical Progression KS1
Musical Progression KS2
Extra-Curricular Music
We have a number of peripatetic music teachers who come into LEAP to teach a variety of different instruments. These include:
Reception to year 6 Djembe Drumming and Dance
Years 4, 5 and 6 Steel Pans
Year 3 Ukulele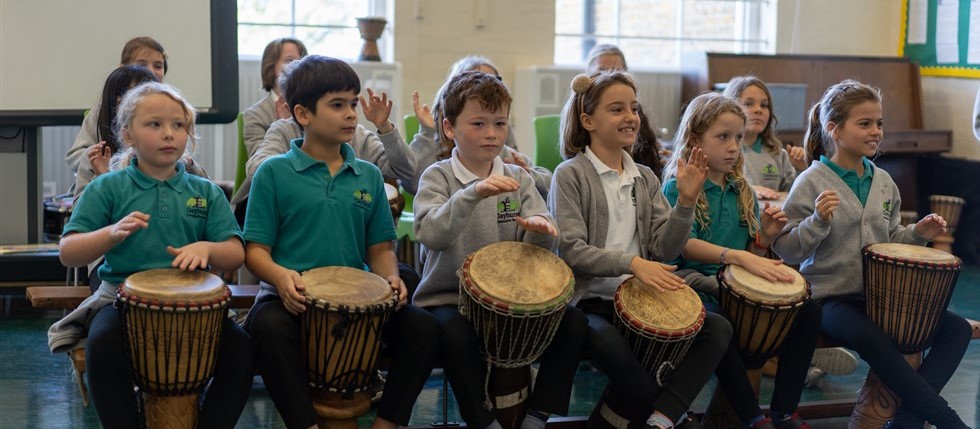 Fundamental British Values
Threaded through the LEAP scheme are units of work that explore music that tackles issues such as, individual liberty, respect and tolerance. For instance, in the unit 'Stop' the pupils will explore themes of bullying, tolerance and respect. The scheme also highlights songs like 'Blackbird' by The Beatles and looks at the reasons and inspirations behind this song involving the Civil Rights movement. The scheme also explores positive changes in society, activism and social justice through songs like Joni Mitchell's song, Yellow Taxi, which is an early example of anger at environmental destruction. Reduce, Reuse, Recycle by Jack Johnson is a happy energiser to encourage less wasteful and polluting daily actions. Get Up, Stand Up was written by Bob Marley to inspire disenfranchised Haitians at the time to pursue social justice and to 'stand up for (their) rights'. John Lennon wrote Imagine as a kind of plea for people to use their imaginations in visualising a fairer, more peaceful world. .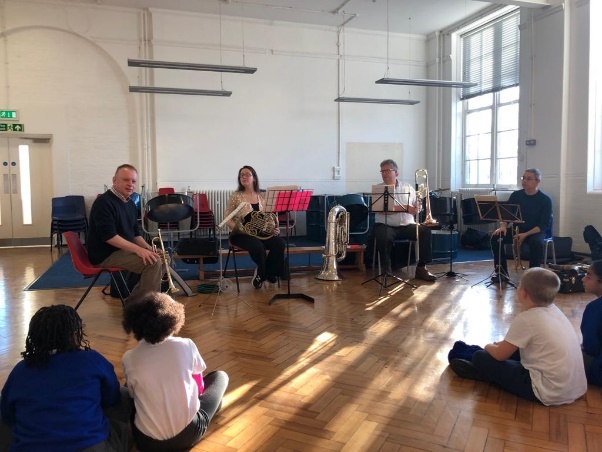 Cultural Capital
Throughout the year the children have opportunities to listen to live music, we have a number of different musical projects running in each school. Apollo music have been working with different year groups in KS2, giving the children a glimpse of a string quartet, woodwind instruments, brass instruments. We have had one of the organist from St Paul's cathedral playing to the children. We have had opera singers, African drummers and a variety of instrumentalist playing for the children.
The children have also had opportunities to play their instruments in concerts across the country.

Rich, Relevant and Representative: The LEAP Empowerment Curriculum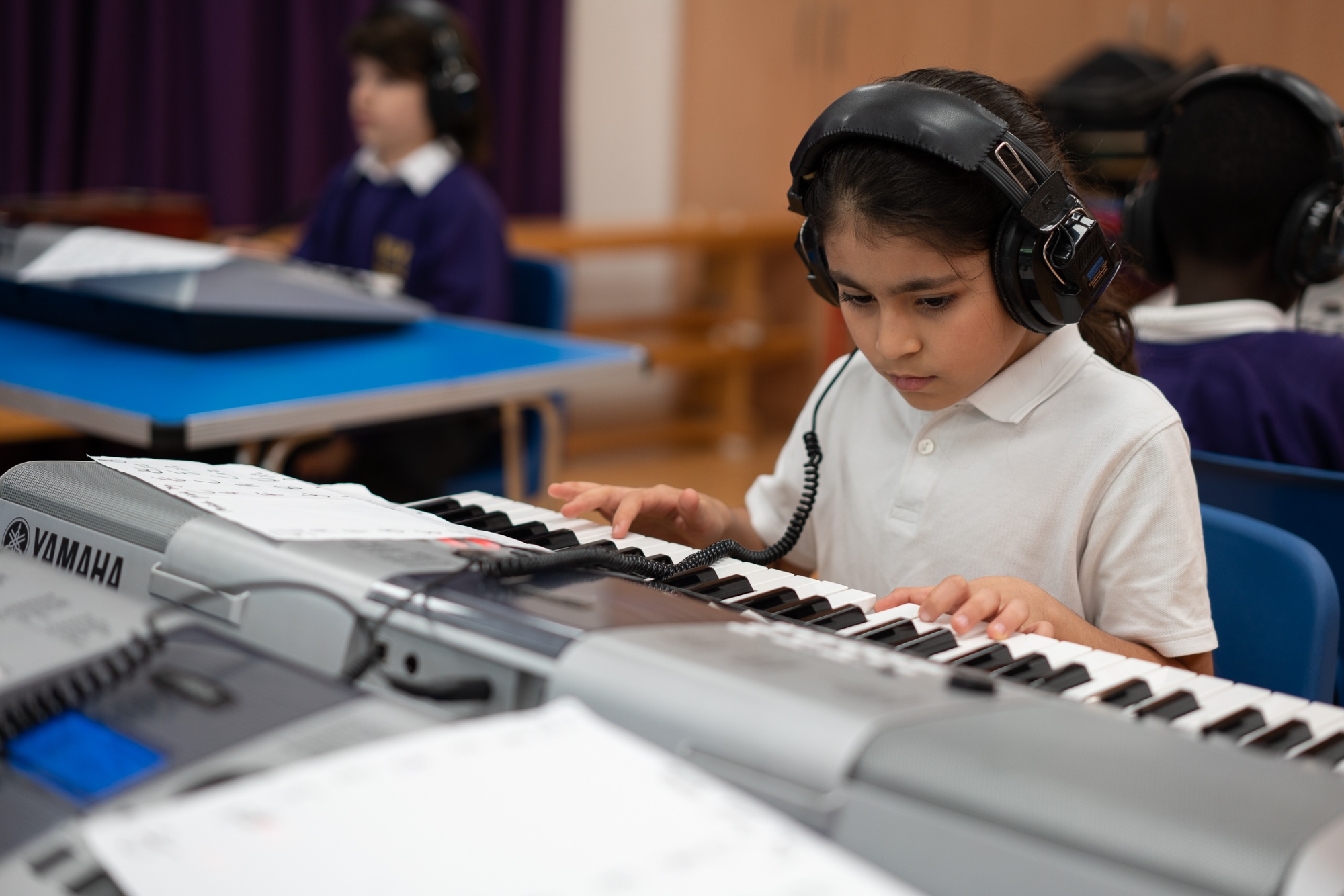 The LEAP scheme of work introduces children to a variety of music through place and time including, Reggae, Jazz, Rock, Pop, Classical, Mo-town, HipHop etc. As part of their musical learning children will explore the works of various artists, including black and ethnic minority musicians such as, Angelique Kidjo, famous Afropop performer, exploring the influence of African music across the world from its roots in the slave trade, Angelique travels to the US, Brazil and the Caribbean. They will also look at music that has influenced the British charts such as The Summertime Song recorded in 1970 by the British pop-blues band Mungo Jerry, which reached the Number 1 position on charts around the world (including seven weeks in the UK). It is considered one of the highest selling singles of all time with an estimated 5-10 million copies sold.
Music at Home
One of the most exciting and rewarding things you can do at home with your children to support the Music curriculum is to listen to music and talk about the types and styles of music you listen to now and what you used to listen to when you were younger.
Award